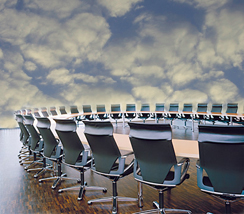 I've blogged recently about participating in the business analysis community, and felt like I should get involved in what is going on in my local Atlanta IIBA chapter. Well, I went to the chapter meeting this past Tuesday and thought I'd share a few of my notes and impressions.
First off, it was a good time. I went with a co-worker, and we arrived fairly early. Showing up early gave us an opportunity to meet and visit with chapter president Jonathan Kupersmith (aka "Kupe") and a few other BA's. I'm a longtime fan of his company's business analyst blog, and it was nice to be able to discuss the business analysis and blogging for a few minutes with Kupe. After food (quite a bit, actually) we heard an interesting presentation by Keith Barrett of the Sky IT Group.
He presented a formula for accelerating the requirements lifecycle. The gist of the presentation was that for the past several years, companies have been focusing their resources on tools to aid in requirements management, with the promise that tools would improve requirement quality. In fact, while those tools have matured and become very good at what they're designed to do – manage requirements – they have not done a great deal to improve requirement quality.
He anticipates that the next frontier in improving the requirements lifecyle will be to improve quality of articulating and and communicating requirements, and that to do so, focus will be turned to ways of visualizing and simulating requirements. All in all, it was an interesting presentation.
As it turns out, I understand that a related presentation will be made available via the web in what I presume will be sort of a "webinar" format. Thanks to Requirements.net for the info.
All in all, the meeting was a very positive experience and I'll look forward to attending future meetings and events.
Speaking of Requirements.net, it was at the meeting that I initially heard of the website, so I rushed to check it out. In their own words,
Requirements.net is home of the industry consortium for business analysis. Through focus on requirements definition, visualization, and management, the companies behind Requirements.net are driven to share and sponsor best practices and technologies to improve industry requirements practices.
"Consortium" members appear to be HP Software, Blueprint, RQNG, Orasi, Sky IT, and CorTechs. Between the blog, the whitepapers, podcasts, presentations, etc., it looks like there will be something there for everyone. It will be interesting to see what types of problems they'll tackle, and how they'll go about doing it. In any case, go check them out. It looks like requirements.net may become another nice resource for business analysts.