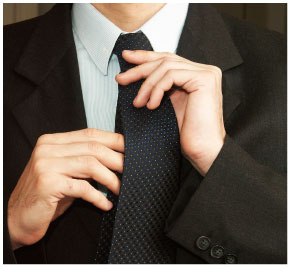 Ever heard the expression that you should dress for the job you want, and not the one you have? I read this interesting little passage a few weeks back and just thought I'd share.
Today in business, "looking the part" has definitely resurfaced as a priority in the eyes of many decision-makers. Perhaps that's why so many organizations are encouraging their employees to wear "business ready" attire. Dressing in a "business ready" mode means wearing clothes that ensure that you are one of the first individuals to come to mind when your manager realizes he or she is double-booked and needs an instant replacement for that upcoming meeting. "Business ready" means never having to say you're sorry for how you look during a meeting. In short, "business ready" attire means dressing for the position you want rather than for the one you have. It's the best (and most lucrative) approach to business attire, and it's one you should adopt whatever formal style guidelines your organization promulgates.

Sabath, Ann Marie. Business etiquette : 101 ways to conduct business with charm and savvy -2nd ed. . Franklin Lakes, NJ: Career Press, 2002. Page 42.
Clearly, talent and hard (smart) work are the most important determinants of professional success. By pointing out this quote, I just want to acknowledge that there are also smaller, less subtle details that can weigh in your favor when all else is equal; among them being dress and personal appearance.