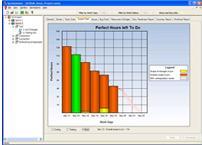 We don't use SCRUM or XP in my shop, but I am always interested in learning more about other methods and tools, and I know some of my readers use these methodologies, so I thought I'd share some information on Sprintometer, a free SCRUM & XP project tracking tool.
Per the overview on the Sprintometer website:
It was originally created by people working on Agile projects for their own purposes and now is available as freeware product.

We tried to do this tool simple, quick, reliable, user friendly and original. During development of this tool we in turn used many powerful agile ideas.

Tool is provided "as is" and you can freely distribute it and use for tracking and managements of your agile projects.
Features include:
SCRUM & XP projects tracking
Enhanced Burn Down and other useful charts
Tracking of sprint/iteration with variable team composition
Separate tracking of development and testing task
Prediction of deviation from planned sprint/iteration end date
Export to Microsoft Excel for all charts and spreadsheets
Data stored in local file or in shared DB on server
Modern and user friendly GUI in Microsoft Office 2007 style
Assignment of resources to Tasks and User Stories
Numerous reports with all important Agile parameters
Export/Import of project data in XML format
I'm probably going to take a look at it myself just for kicks, but let me know what you think of it if you check it out.
Thanks to the Best Freeware Blog for the tip.