I have found there to be four key knowledge/capability domains that are especially important to business analysts. In this article I'll provide a brief description of  each with accompanying lists of possible self-check/development questions that you might find useful in gauging your knowledge in a the domains, given your current situation or even your career goals.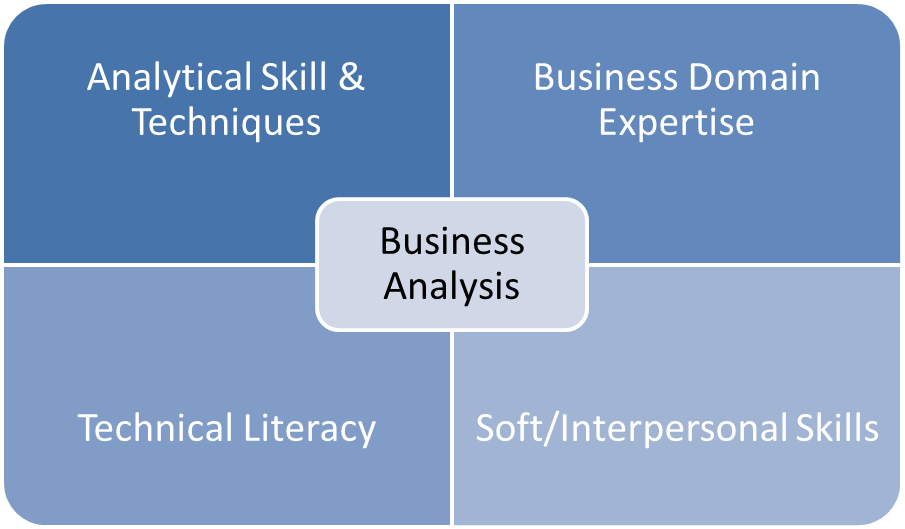 Business Analysis Skills and Techniques
The business analysis domain is, unsurprisingly, the distinguishing skill/knowledge domain for a business analyst. It includes those skills and techniques typical of the business analyst (BA) job description, and that set the BA apart from other roles – typically project managers on one hand and designers or solutions architects on the other.
A business analyst with a solid foundation of BA domain knowledge will have inevitably accumulated some knowledge in the other domains as well, but expert knowledge in the business and technical domains isn't necessary for an analyst to be effective.
The Business Analysis Body of Knowledge (BABOK) is a widely recognized and recommended resource for Business Analysis skills and techniques.
Personal Development Questions:
How well do I understand the principles and techniques of requirements elicitation, analysis, specification, validation and management? How well do I perform them?
How well am I able to distinguish between symptoms and true business problems?
What is a business case, and why is it important to the work I do as an analyst? If asked to, could I help build a business case? Would I have the will to be honest and objective if the business case just isn't there?
How well do I understand the various forms of requirements and when they should be used?
How well am I able to model complex ideas that are more easily understood visually than verbally?
How well do I know the various solution delivery methodologies including traditional and agile methods? How well do I understand the role of the analyst in each?
How well do I understand the needs of other roles typical to solution delivery – Business stakeholders, IT management, project management, QA, Development, etc.?
Do my requirements meet the needs of solutions delivery teams? If there is a lot of churn, and "analysis paralysis" how do I achieve an understanding with these teams?
What is my knowledge of requirements management technology and the tools that are available to help define, store, and manage requirements?
"Competency in business analysis tasks is something that typically is tied to the ability for an individual to perform BA tasks at a certain level of complexity and autonomy.  Usually Business Analysts improve their competency over time with experience and ongoing professional learning. " – Jarrett Hailes
Business Domain Knowledge
Business domain knowledge includes an understanding of the broader industry, competitive landscape, and even gets down into the specifics such as your particular client/company's culture and business processes.
A significant part of an analyst's stewardship consists of helping business stakeholders identify problems and define objectives. Business domain knowledge enables an analyst to be more efficient. While an analyst that is gifted in analysis skills and techniques might be able to do an adequate job without deep business domain knowledge, it's reasonable to think that an analyst that does have a strong sense of business context should be able to more quickly determine the right questions to ask, and the right approach for handling business challenges.
Personal Development Questions:
Who are the key players in the market?
What are the common elements of the most successful players in the market?
What trends or innovations may change, or are changing the competitive landscape?
What position does the company hold in the market?
What is the company's strategy?
What are the company's mission? vision? values?
What products does the company offer to the market? How are they received relative to competitive products? Why?
How are the company's products distributed?
How does the company measure product success?
What are the company's organizational and functional strengths and weaknesses relative to its competitors?
What specific systems or products will you be working with? How are they important to the company's success?
In what ways the the company's culture conducive, or a barrier to product/project success?
What are other barriers to successful product/project implementation?
Who are the key, influential people in the company whose buy-in is critical to getting things done?
What "sacred cows" or untouchable products/systems/programs does the company cling to?
"Projects, when implemented correctly, are actually the tactical implementation of an organization's strategic plan. I need to understand what that strategy is, and which portion of it that my particular project is trying to deliver in order to help the project team make the right decisions." – Kent McDonald
Technical Knowledge and Aptitude
This domain ranges from a general understanding of how technology is used to solve business problems to detailed knowledge of specific systems or technologies.
The analyst role includes being able to make solution recommendations to the business – or at least to help in the decision making process. Knowledge of what the company's technical assets and their capabilities and limitations can help the analyst be more efficient in this area. Technical knowledge is also useful in that it brings the analyst credibility with designers and developers and business stakeholders alike.
This seems to be the area where an analyst with deep knowledge is inclined to overstep the bounds of solution definition and amble into solution design, and there are varying opinions as to whether it is a good thing or not for an analyst to be an expert of things technical.
Personal Development Questions:
What business problems does the company address through software and systems?
What software and systems does the company use? What are those systems used for?
What is my understanding of general technical architecture concepts? Of the company's technical architecture in specific? What are the layers or tiers of architecture, and what is the importance of each?
What technology does the company use to transfer information internally and externally?
What is the history/evolution of the company's technical architecture (systems and technologies used)
What alternatives to those systems exist in the market?
What are the relative strengths and weaknesses of the software and systems the company uses?
How do users interact with the systems and software?
What systems have I used extensively, or have a working knowledge of?
What software development or querying languages and tools do I have a knowledge of? Which ones are used in the company?
What are the primary sources of data in the company? What are the primary destinations of data in the company? What is my understanding of data models and the specific models and schemas the company uses?
How are the various systems interdependent, or how do changes to one system typically impact other systems?
What is the CIO's (or the equivalent's) information strategy, or what is the vision moving forward for using software and systems to meet business needs? What is the plan for getting there from where we are now?
"The more a BA understands the enterprise IT assets and how to leverage them, the better he or she will be able to understand how they can be used to improve the business. Understanding what technology can and cannot do is critically important when trying to solve complex business problems." – Barbara A. Carkenord
Interpersonal or "Soft" Skills
Soft skills and interpersonal skills have more to do with the individual. Some are naturally gifted communicators or great with people and others are less so. Some may place these types of aptitudes under the business analysis domain and that's ok, but I list them separately because I think they're more generalized. Although they can be points of differentiation for a business analyst, they are not at all unique to the BA skill set. In fact, they're required, to some degree, of most roles.
Again, you can be a passable business analyst without being a "people person" per se, but the skills in this area can be pretty obvious points of distinction between the passable and the expert.
Personal Development Questions:
How well do I work with others? Operate in a team environment? Put the interests of the team first?
How well do I facilitate meetings, workshops and reviews?
How well do I prepare for and manage meetings in general?
How is my general professional demeanor? Am I punctual? Do I dress appropriately to the business setting? Do I show professional courtesy in my dealings with others?
Do I have the ability to lead others even if I don't have a title that requires others to follow?
How well am I able to broker mutual, win-win agreements between parties? Do I have a sense of when it's appropriate compromise, and when it isn't in order to achieve the most favorable outcome?
How well do I communicate ideas in spoken and written form? How good a listener am I?
How well do I establish and nurture relationships of trust with key business and solutions stakeholders?
How well am I able to track down and find answers to questions that I don't know the answers to myself?
How well do I package and present ideas? How well am I able to tailor the message to the audience?
How efficient am I with my time and courteous with regard to the time of others?
Am I self-motivated, or do I require constant follow-up to make sure I am completing my work?
How well do I accept constructive criticism?
"Having people skills is about having the ability to work with people of all career and skill levels and developing positive relationships. It is necessary for an analyst to spend time with front line staff and developers all the way up to the executive levels. Having good people skills will enable them to do this in a way that makes the rest of their job easier." – Barbara Davis