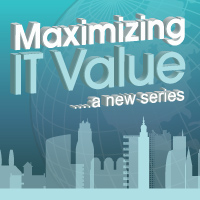 I was privileged to be invited to do a podcast interview with Matt Morgan and Keith Barrett of Requirements.net last week. The podcast is the first in their new series on "Maximizing IT Value".  If you're interested in having a listen, here's your link.
The interview was a lot of fun, and I think we covered quite a bit of  ground  – from how business analysts can help ensure efficiency in IT spending to offshoring; from BA empowerment within an organization to requirements done wrong. We even touched on blogging and business analysis resources on the Web.
So, why in the world would they want to talk to me? One of the most interesting aspects of our visit last week (at least to me) was while we were chatting briefly after the interview and touched on some of Requirements.net's objectives.
Sure,  they've featured interviews with industry heavyweights and thought leaders such as Alistair Cockburn and Steven Davis. But as a consortium "driven to share and sponsor best practices and technologies to improve industry requirements practices," Keith explained that they're just as interested in the pains, progress and perspectives of everyday, practicing business analysts – like me,  and like many of the others with whom you can interact via blogs and BA community sites (have a look at my front page blogroll for some good examples).
Anyway, I'll be interested to hear your feedback on the content of the podcast, or  your constructive critiques of my "big debut" as an interviewee.